Our young, purebred
Sorraia
stallion,
Altamiro
, has already had quite an interesting life and we are so fortunate that he has come to Ravenseyrie and established himself as the patriarch of our Sorraia Mustang Preserve.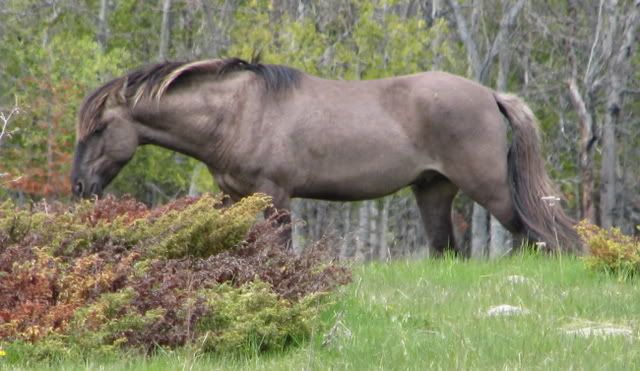 I can think of no better way to introduce you to Altamiro's story then to direct you to the wonderful website of
Leslie Town Photography
. Leslie discovered us through her sister Janet who visited Manitoulin Island last summer and happened upon me at my gallery in the village. Upon learning about our efforts here at Ravenseyrie to help save the Sorraia, Leslie just had to come and capture some photos. Since our meeting, Leslie and her sister Janet (both devotees of the noble equine) have been helping to spread the word about our project by posting updates on Altamiro and his offspring, as well as providing online access to articles I have written for the EQUINE WELLNESS magazine and the MANITOULIN EXPOSITOR.
It gives me great pleasure to send you to Leslie's website for your proper introduction to Altamiro and to learn how Kevin and I were able to realize our dream of establishing a Sorraia Mustang Preserve. I hope you will follow the link and read how the crossing of Altamiro with rare, Spanish Mustang mares of Sorraia type can assist in strengthening the genetic resources of this primitive, ancestral horse and help keep the Sorraia horses from perishing.
Leslie Town Photography
:
http://www.myhorse.ca/horseoftheweek/2007/how20071015.htm
The photos shared in this blog have been taken by me--a rank novice--and are presented to give a layman's visual of Ravenseyrie. Leslie's professional photographs taken from her visit here last October are a must see, so please do follow the link.
For in depth information on the history of the Sorraia and their connection with particular Spanish Mustangs which share the Sorraia phenotype please follow this link to Hardy Oelke's educational website. (Note: Hardy's website hasn't yet been updated):